By Jacquelyn L. McDaniel, The Urban Educator (April 2017)
I wish this "Move Your Body" video was around when I was an overweight child growing into an obese adult.  Beyonce has a natural knack for making people want to move their body.  The original version of the song, Get Me Bodied, is great for any sort of cardio workout.  Making great attempts to learn the dance routine was a HIIT workout in itself.
However, when I danced around the house while preparing myself to go out "with the girls"….
I

danced to this song as if I was

…

or

…

but

I was

really…
or better yet…
To say the least, when the Move Your Body video hit the net, I was elated and relieved to know I could finally do some moves my 250 lb.+ body wouldn't resist.
so…
After having to

stop

halfway up the stairs as I would walk my students up and down to the yard for recess, lunch, assemblies, emergency drills, P.E., and other specials events for over 10 years…
After obtaining multiple sprains, breaks, and other weight-related medical ailments…

After

becoming a near recluse for over a decade, except for work and family events…

After

seeing how embarrassed my daughter was to be seen with me…
After my daughter began to obtain sprains and other weight related medical issues…
After empathizing with my daughter's issue with finding clothes to her expanding body…
After binge-watching My 600 lb. Life and thinking "How could those people themselves get that big?"…

After

crossing the 300 lb+ threshold and realizing that I was one of "those people"…
After having visuals of my Grandfather injecting himself with insulin and becoming a diabetic amputee while getting the "You are Pre-Diabetic" diagnosis from my doctor…
After encapsulating the shame, embarrassment, anger, physical pain, emotional pain, and sheer lethargy…it became villainous to force my body to bear weight it never endorsed.
After recalling that my single parent – student loan indebted – outrageous Los Angeles rent paying – teacher salary budget didn't accommodate a monthly gym fee that was being used by a ghost…
The combination of fitness apps, YouTube, a T.V., or a mobile device, along with a Chromecast or a Firestick became a no-brainer way to begin my journey toward a sound mind, body, and soul.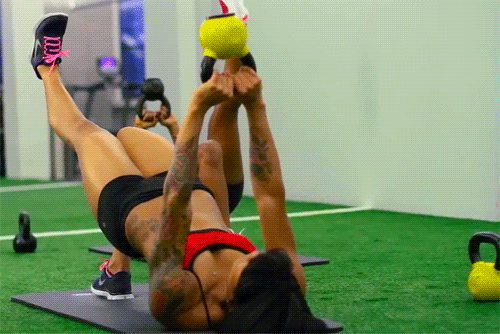 HIIT, dance, kettlebell, weights, bands, and Piyo exercise routines forced me to maintain a nutritious diet because "I was not going to waste all those calories I burned on junk!".
 After a 4 am workout in preparation to be out the home by 6:30…
  so that I can enter the abyss of the 110 freeway through the DTLA (Downtown Los Angeles) snake pit of freeway interchanges…
which is necessary for me to be at work in the heart of "the inner city" by 7:40…
which is necessary for me to make the most of my 20 minute contracted teacher preparation time…

I eat, shower, moisturize, and meditate to the sound of an oceanscape for at least 10 minutes…
because if not…
https://soundcloud.com/the-urban-educator/sets/hip-hop-instrumentals
An 18 mile/25 minute drive without traffic that morphs into 60+ minute drive with erratic and impatient commuters could metamorphize me in DMX before I greet 30 plus students who…
may not have bathed, nor eaten since lunchtime the previous day as a result of neglect or "latch-keyism".
who…
might be hungry and waiting to eat breakfast when the start of the instructional day bell rings whether they ate dinner the night before or not
who…
may have "more excuses than a little bit" for why their homework is missing or incomplete
who…
might be discombobulated as a result of a "family situation" that could have occurred the night before or that morning, hence the reason for a lack of focus and ability to follow directions
who…
who…
might have an incarcerated parent
who…
may have parents going through a divorce and a custody battle
who…
may have a parent who is a substance abuser
who…
might be physically, mentally, verbally, or emotionally abused
who…
may be bullied, teased, or intimidated
who…
might have had to get up at 5 to catch the bus from their "out of the area" home in order to get to school on-time
who…
may have had to walk unsupervised past prostitutes, pimps, marijuiana smoke, and homeless encampments on the way to school
who…
might be late because they had to stop at subway or the corner store to get some hot Taki's, cookies, and a soda for breakfast and lunch because it taste better than the "nutritious" school cafeteria food that many dump as soon they receive it
who…
may be tardy because they had to walk their little brother(s), sister(s), or cousin(s) to their classroom first, per their parent's instructions
who…
might want some "Teacher Talk" time to discuss social relationships issues in the classroom, on the yard, and at home
who…
may be uber exhausted as a result of an uncomfortable night's sleep on a non pull-out couch that doubles as a bed and dresser containing their personal belongings kept in a trash bags, resulting in the need of a good 20 minute power-nap before they can even think about trying to learn something, especially something in which they are uninterested.
who…
may be so unfocused and unenthusiastic about school because of all the above-mentioned PTSD triggering events that do not complete task and perform poorly on ones they do complete
who…
do not realize they are a "rose growing from concrete"
who…
have varied learning styles and multiple intelligences
who…
have varied language levels
who…
have varied academic skill levels
who…
who…
are only exposed to a plethora of academic standards dependent upon the possession of keen critical thinking skills
yet…
are expected to master a plethora of academic standards dependent upon the possession of keen critical thinking skills
and who…
are expected to perform successfully on a High-Stakes Test such as the SAT, ACT, and SBAC
RESULTING in…
the need for my 4 a.m. "ME" time where I can workout to videos such as the one with Beyonce and FLOTUS, Mrs. Michelle Obama, the previous First Lady Of The United States.
A time set apart to get my mind and body strong enough to withstand the powerful negative vicissitudes of being an urban teacher.
For this reason…
I dedicate sections of this site to the enrichment of the mind, body, and soul of those working and living in urban communities….  
Brain Break – a time for you and/or your kids to "take a pause for the cause" from the monotony or business of the day with some stretching and dancing
Workout of the Day – a way to get in a quick 10 – 20 minute workout during your lunch break

Daily Viral

 – time to do something extremely good for the heart…laugh
Make a Teacher Laugh – funny content related to teaching
Motivate – inspirational quotes, videos, etc.
Recipe of the Day – add a nutritious and sometimes indulgent recipe to your chef resume
Concrete Rose – recognition of those epitomizing a "rose that grew from concrete".
A Little Birdie Said – view, like, and share my a tweet
Let's be Friends –  view, like, and share my a post

Good Reads

– view, like, and share a book you are interested in reading or purchasing

and much more…
For this reason…
I am elated that Beyonce teamed up with the iconic first lady of America, Mrs. Michelle Obama, to aid the eradication of childhood obesity epidemic that's enraptured the nation.
Beyonce surprises and joins a group of students doing the "Move Your Body" routine.  Just as I do each year with my students.
These interactive exercise videos are exceptional ways to hook your students into the enjoyment of physical fitness.  The integration of music, dance, rhythm, physical fitness, and the social science of Educational Policy as a result of FLOTUS's involvement, makes for an exceptional way to start the school year!
It is my hope that you bookmark this site on your google chrome bookmark bar so you can continue to have an interactive experience that changes you from…
 

"House Wine into 

Champagne."  
Like, Share, Dialogue, and

Apply…
so that you may…
Engage, Empower, and Emancipate!